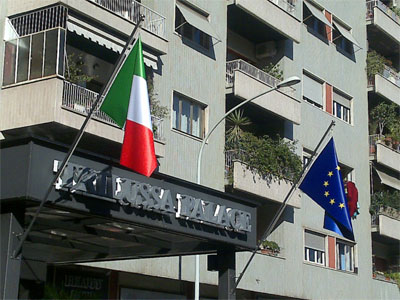 ANTIROLL
If You are looking for elegance and functionality, 
here is Your solution:

DELUXE FLAGS WITH MIB ANTI ROLL system.

The "DELUXE" Flags are 
a great exclusive of MIB Srl.

These flags are made of 340 gr/sm. 
silked satin and printed on both sides.

The peculiar composition of the fabric, 
with our special method of treatment, 
gives to the "DELUXE" Flags a brightness 
never experienced before, while the consistence 
of the threads makes them  extremely resistant 
and therefore very suitable for external exposition.

And in order to give the maximum and constant 
visibility to these flags, they come with our ANTI ROLL 
system, studied for 
inclined poles.  
As a fact, that inclination often 
causes the wrapping of the flags.
With our system, instead, the pride 
of every flags remains free to wave!

Contact us for information and quotations!