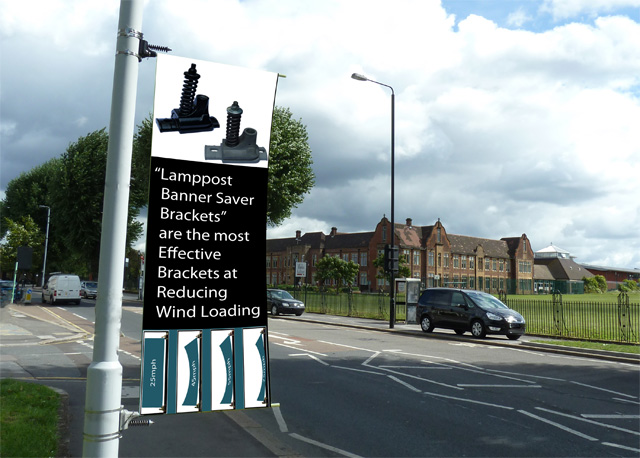 FLEX01
MIB-FLEX Lampost Banner Saver Brackets

Wind is a banner's worst enemy and could cause banners 
to rip and lamppost to weaken and fall. With Lamppost Banner 
Saver Brackets your banners will remain taut until winds 
reach approximately 70 MPH, after which the bracket pivots  
with the wind in proportion to its speed. The more the wind blows, 
the more the brackets pivots and releases loading...saving your 
banners, lamppost and poles!

Benefits over other brackets:

-   Wind releasing brackets decrease loading by 87%, e.g., reducing 
the load of a 1.86sq. m. banner  to that of 0.24sq. m. banner 
approx.

-   Withstands wind speeds up to 100mph

-   Can be mounted on Lampposts and Walls.

-   Very quick changeovers / turnaround times with detachable 
poles.

-   Can be installed with standard tools.

-   System approved by most councils and highways

-   Available in 2 colours to closely match most lampposts

-   Completely weather proof with 5yr warranty

-    You can you use blackout PVC / PPE banners

-    Improve look during periods where no banners are up as bracket 
can be left without the poles.