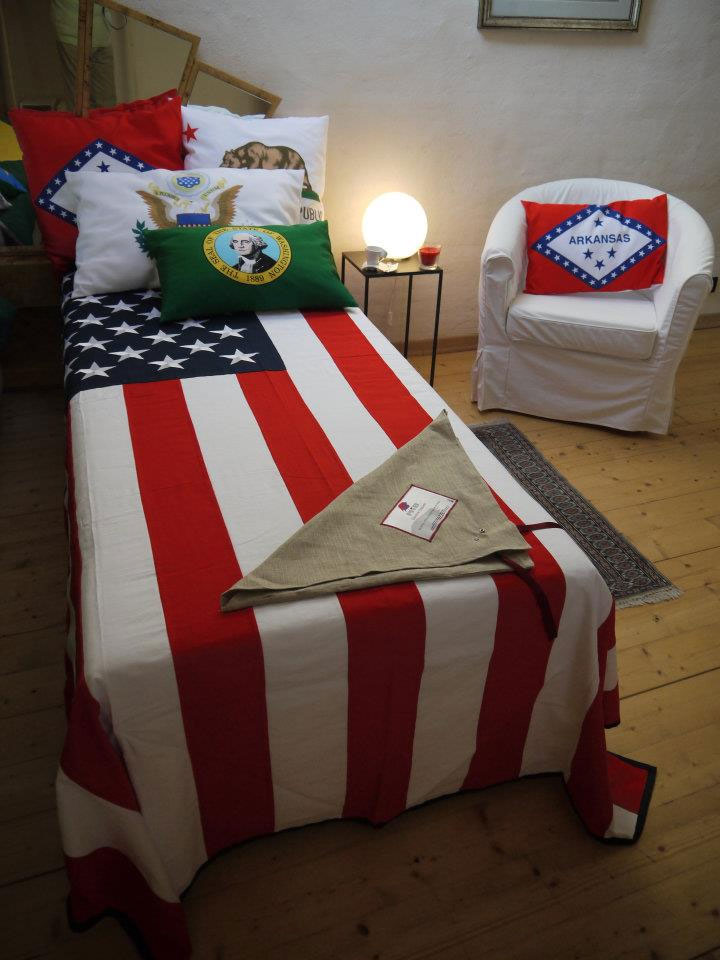 MIBHOME
Bedcover/duvetcover

MIB Creations proudly brings to You 
the new collection "FLAGS for HOME".
In this picture:


The collection of "U.S.A." pillows printed 
on english bemberg moella and placed on the 
bedcover "U.S.A." in 100% panama cotton for single bed,
completely hand made in application and embossment, 
following the traditional techniques of flags 
production.

The Stripes, representing the thirteen colonies 
that rebelled against the U.K. in 1775, have been 
hand cut one by one and applied one to the
other; The blue square with the fifty Stars, 
representing the fifty States, is entirely 
embroidered (450.000 stitches).

Measures of the bed cover:
Double - 250x250
Single - 170x250
Single and half: 200x250
King Size: 260x270

The bag of the bed cover is made in pure cotton, 
triangular shape, to allow the traditional bending 
of the U.S.A. flag.

Beside items with standard measures and standard subjects, 
we can create items with Your own measures and 
subjects on demand!

Contact us for info and quotations!
Whatever Your flag is... 
we'll make it the FLAG for Your HOME!